The Consummate Financial Partner
Integrated Financial Partners prides itself in being a consummate professional partner to fellow financial professionals. Our clients' financial needs are at the center of our advising process. We are fully committed to working closely with every advisor and professional counsel with whom clients have existing relationships.
"Integrated Financial Partners serves clients according to the following principals of integrity. We vow always to strive to do what is best for our clients, and promise to share "the good, the bad and the ugly" about every recommendation."
We graphically depict the client experience using a triangle. The client is central in the working relationship. Integrated Financial Partners and the clients' other professional advisors take corner positions in this depiction, positioning them as protectors of the clients' best interests. The blue bands illustrate our commitment to coordination and cooperation with the clients' team of professional advisors.
Integrated Financial Partners is a member firm of Integrated Financial Group (IFG), a consortium of professional financial advisors. This affiliation, in conjunction with LPL Financial, provides you with the benefits of working with a professional financial advisor without giving up the resources of a large organization. Through IFG Advisory LLC, we offer an independent approach to fee-based financial planning. Learn more about Integrated Financial Group at www.TheBrainTrust.net.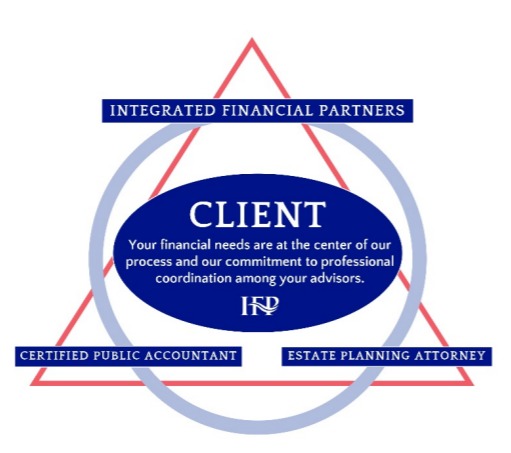 We are always happy to talk with anyone who believes they need our help. If you have questions about investing, financial planning, college funding, retirement or any other of a number of matters for which a financial professional can help, please contact us!
Address: 2330 Patrick Henry Pkwy, Suite 150, McDonough, GA 30253
Securities offered through LPL Financial, Member FINRA / SIPC. Investment advice offered through IFG Advisory, LLC, a registered investment advisor. IFG Advisory, LLC, Integrated Financial Partners, and Integrated Financial Group are separate entities from LPL Financial.
The LPL Financial Registered Representatives associated with this site may only discuss and/or transact securities business with residents of the following states: AL, FL, GA, KS, NC, OH, SC, and VA. Integrated Financial Partners is licensed to conduct insurance business in AL, FL, GA, and NC.